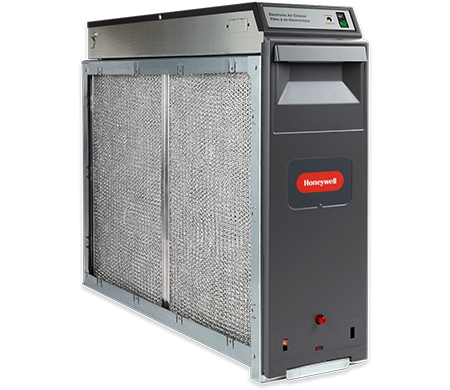 Highly Effective
This filtration system places an electronic charge to collect up to 99% of airborne particles as they pass through the system
Easy to Maintain
No replacement filters ever need to be bought. Just simply wash off the filter cell every 6-12 months.
Eco-friendly
This air cleaner uses a filter that does not need to be replaced every month.
Model numbers: F300E1001, F300E1019, F300E1027, F300E1035, F300A1620, F300A1625, F300A2020, F300A2025, F300A2012, F300B2012
Honeywell - if you don't see the product you need contact us!
An air cleaner that's
low cost and low maintenance
Order PRE filters Order POST filters
Need an affordable solution for air cleaning? Look no further than our F300 Electronic Air Cleaner. This air cleaner works efficiently to capture up to 99% of airborne particles from the air passing through the filter and requires minimal maintenance while doing so. Simply remove the filter every 6-12 months, wash it and replace it. No replacement filters needed. Achieving cleaner air has never been easier.
3-stage filtration system
Captures up to 99% of airborne particles from the air passing through the filter
Renewable and eco-friendly
No replacement filters needed
Honeywell offers an exclusive 10-year Clean Coil Guarantee
Five-year warranty
Professional installation