Classic® Series Gas Furnace Model R95P
95% AFUE Efficiency
Rheem's R95P Classic® Series Gas Furnace offers the comfort you can count on, plus energy-saving features that make a real difference on your monthly utility bills – making your wallet more comfortable, too.
Peace of Mind
Designed with patented features to ensure year-round reliability. And for added peace of mind, our gas furnace is backed by a 10-year conditional parts warranty and a limited lifetime heat exchanger warranty. You're covered!
Exceptional Quality & Reliability
Quality is in the details of the Rheem R95P Classic Series Gas Furnace. You can feel confident, thanks to rigorous testing of all major components. The Rheem R95P was engineered with the exclusive PlusOne™ Ignition System, the most reliable ignition system in the industry, so you can count on your furnace lighting right every time.
Why Rheem
Enjoy warm, cozy winter nights with a reliable Rheem Gas Furnace. Rheem offers products that fit every budget, so your family can enjoy reliable home comfort for years to come. We focus on bringing homeowners 'The New Degree of Comfort' through the development of energy-efficient Heating and Cooling solutions designed to save money and go easier on the environment. With a Rheem Gas Furnace, you'll enjoy a perfect balance of comfort, efficiency, and reliability.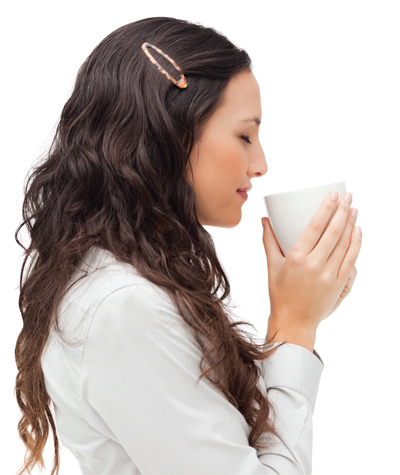 A 360° Approach...And Then Some
The Rheem R95P Classic Series Gas Furnace was designed using our 360°+1 process, which means every detail of the product is meticulously evaluated from every angle. We consider the work that goes into installing and servicing our products, as well as how we can deliver the very best homeowner experience. And then we take it a step further. That's 360°+1. And that's why you can count on your gas furnace to bring you and your family years of comfort.
Engineered for Reliable Comfort
Industry-first patented features and 360°+1 engineering make the Rheem R95P Classic Series Gas Furnace a smart option. From top to bottom, inside and out, and every angle in between, we've thought of everything to bring you efficient and reliable indoor comfort.
Reliability is of the utmost importance when it comes to your family's comfort. Our Classic Series Gas Furnace comes standard with the Rheem-exclusive PlusOne Ignition System. This proven direct spark ignition (DSI) is one of the most reliable ignition systems available today. Used exclusively by Rheem in the Heating and Cooling industry, this technology is the same proven design used on ovens and stoves. Also, our PlusOne™ Water Management System includes the industry's first blocked drain sensor, which will shut off your furnace when a drain is blocked, preventing water spillage and potential water damage to your home. It also prevents seasonal start-up issues, which means fewer warranty claims. All this and the best warranties in the industry translate to fewer repair bills and more cozy nights at home.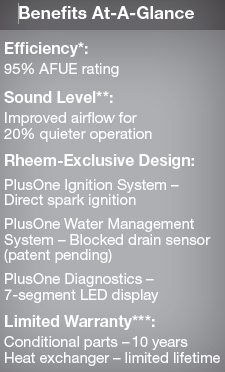 Quiet and efficient comfort is what you get with a Rheem Classic Series Gas Furnace. The new patented heat exchanger design provides improved airflow, which reduces operating sound by 20%**, making it one of the quietest furnaces on the market. And because it's high-efficiency, your monthly energy bill will give you even more reasons to smile.
Easy installation and maintenance features benefit consumers, too. This means savings on installation costs and faster, more cost-effective repairs during maintenance. The Rheem Classic Series Gas Furnace is also designed with PlusOne™ Diagnostics – our industry-first 7-segment LED display, a feature that makes service calls quick and easy.
Reap Savings Through Maximum Efficiency
The R95P Classic Series Gas Furnace is not only high-performing, it also saves you energy and money. It's everything you need in a gas furnace – and more.